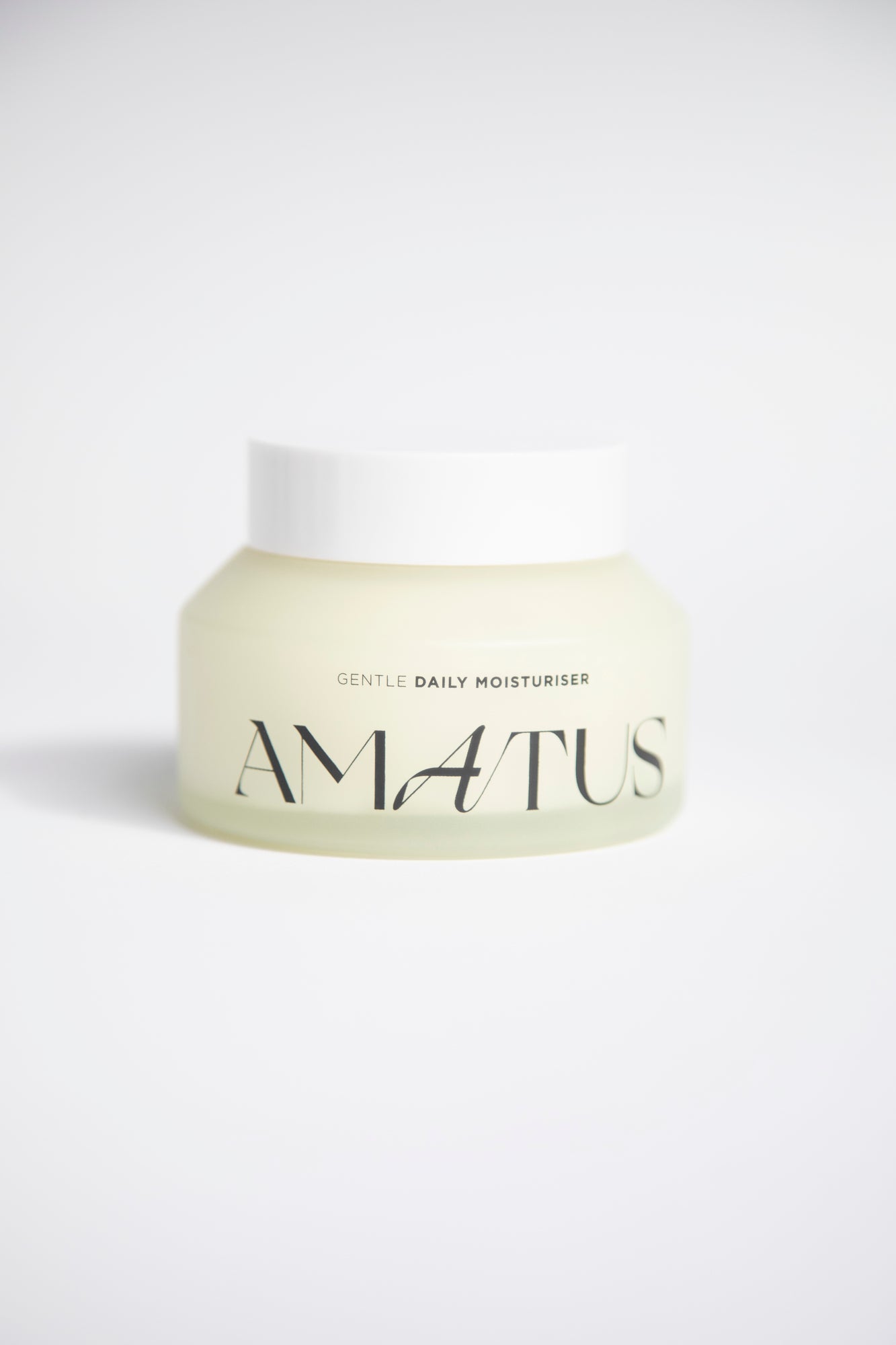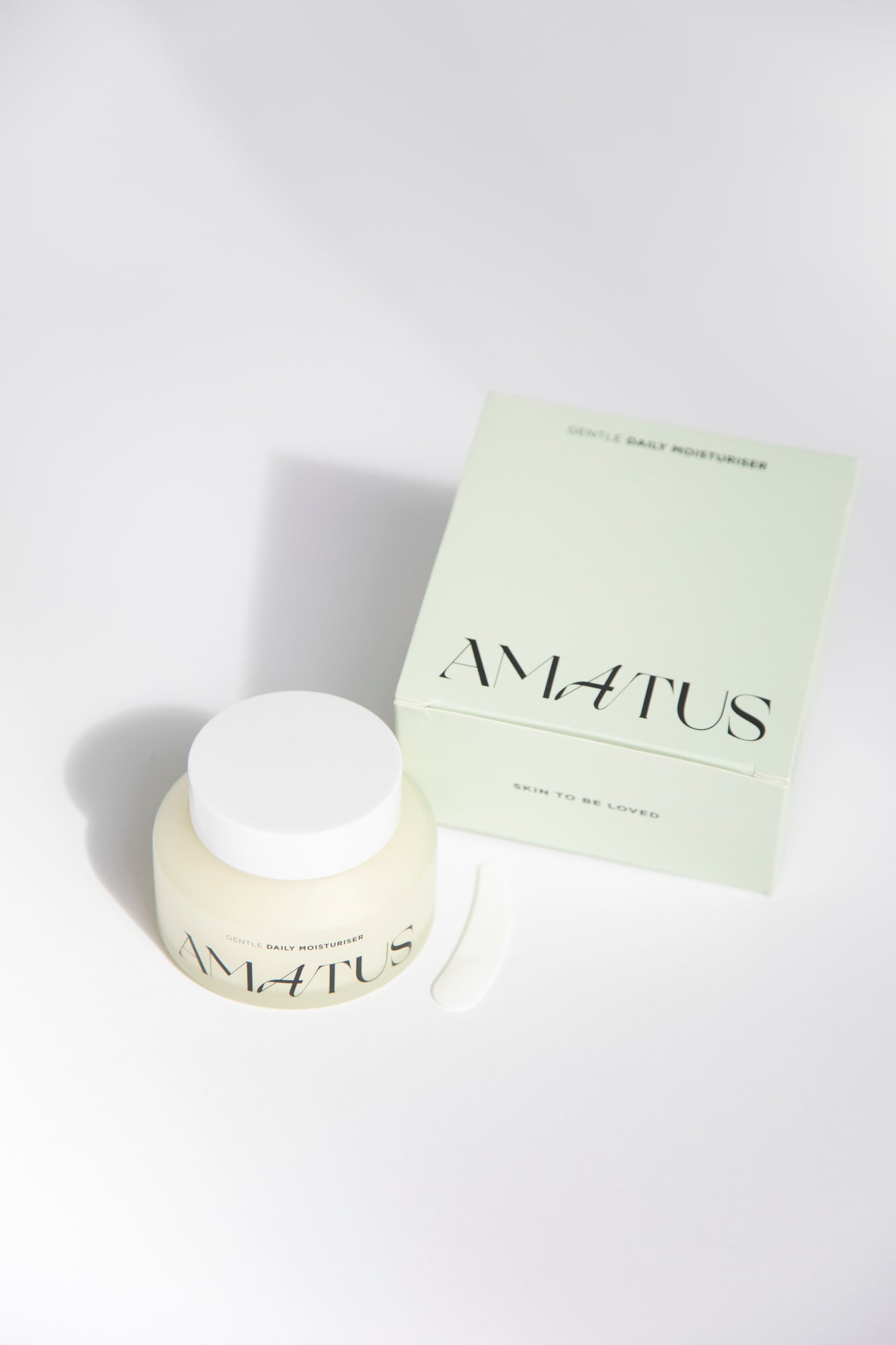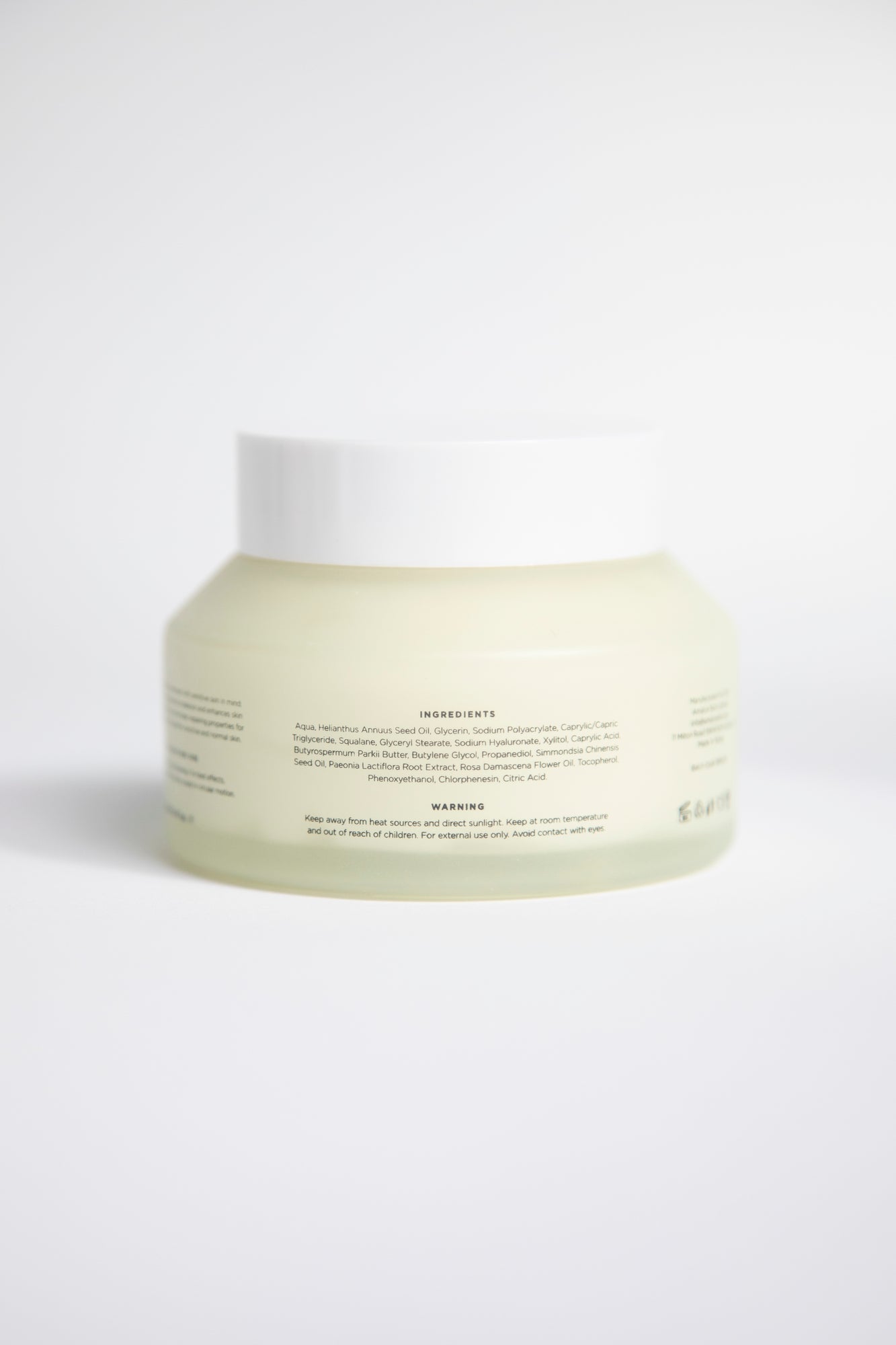 Gentle Moisturiser
An essential daily moisturiser developed with sensitive skin in mind. Our hydrating vegan formula is enriched with Shea Butter, Jojoba Oil, Vitamin E, Rose Oil, and Squalene which deeply hydrates, repairs and revitalises the skin. Targets dry skin for a more balanced complexion and enhances skin metabolism.
It is rich in anti-ageing and anti-inflammatory properties for more healthy, youthful and glowing appearance.

Suitable for sensitive and normal skin.
Key Ingredients

1. SUNFLOWER SEED OIL (Helianthus annuus seed oil): It is rich in Vitamin A & E to help promote skin health. It assists in reducing acne, inflammation, general redness, and irritation of the skin.

2. SQUALANE: Reduces fine lines, wrinkles and increases skin firmness. It contains high amounts of antioxidants and omega 3. These are substances with cell regenerative and repairing properties. It is also a very effective moisturiser and skin brightening.

3. SODIUM HYALURONATE: A form of Hyaluronic Acid that can enter the deep layers of your skin. It attracts moisture and reduces inflammation. Reduces dryness and improves signs of ageing, repairs compromised moisture barrier and brightens the skin.

4. SHEA BUTTER (Butyrospermum Parkii Butter): Nourishes irritated, sensitive and cracked skin. Calms eczema and redness. It has a soothing effect on the skin and contains vitamin A which helps prevent acne. It is rich in vitamins such as D, E and F. It exhibits restorative properties, softness, and smoothness to the skin in depth.

5. JOJOBA OIL (Simmondsia Chinensis Seed Oil): Regulates sebum production as it's extremely like the sebum that your skin produces naturally. Keeps skin from looking bright and glowing. It helps prevent acne caused by clogged pores. It has exceptional healing properties which helps to treat acne, eczema and even psoriasis.

6. PEONY FLOWER EXTRACT (PAEONIA LACTIFLORA ROOT EXTRACT): It is an effective ingredient to help the appearance of uneven skin tone. It has protective effects against reactive oxygen species and pollution. It increases skin lightness and helps with reducing dark circles around the eyes and pigmented spots.

Additional Key Ingredients:

Glycerin, Citric Acid, Rose Oil, Vitamin E.

Full Ingredient List

AQUA, HELIANTHUS ANNUUS SEED OIL, GLYCERIN, SODIUM POLYACRYLATE, CAPRYLIC/CAPRIC TRIGLYCERIDE, SQUALANE, GLYCERYL STEARATE, SODIUM HYALURONATE, XYLITOL, CAPRYLIC ACID, BUTYROSPERMUM PARKII BUTTER, BUTYLENE GLYCOL, PROPANEDIOL, SIMMONDSIA CHINENSIS SEED OIL, PAEONIA LACTIFLORA ROOT EXTRACT, ROSA DAMASCENA FLOWER OIL, TOCOPHEROL, PHENOXYETHANOL, CHLORPHENESIN, CITRIC ACID


Everyday use – morning and evening

For best effects, apply to face directly after cleansing. Apply in circular motion and apply after serum.
Glass jar – 100ml – recyclable, eco-conscious

Comes in individual box with ingredient guide