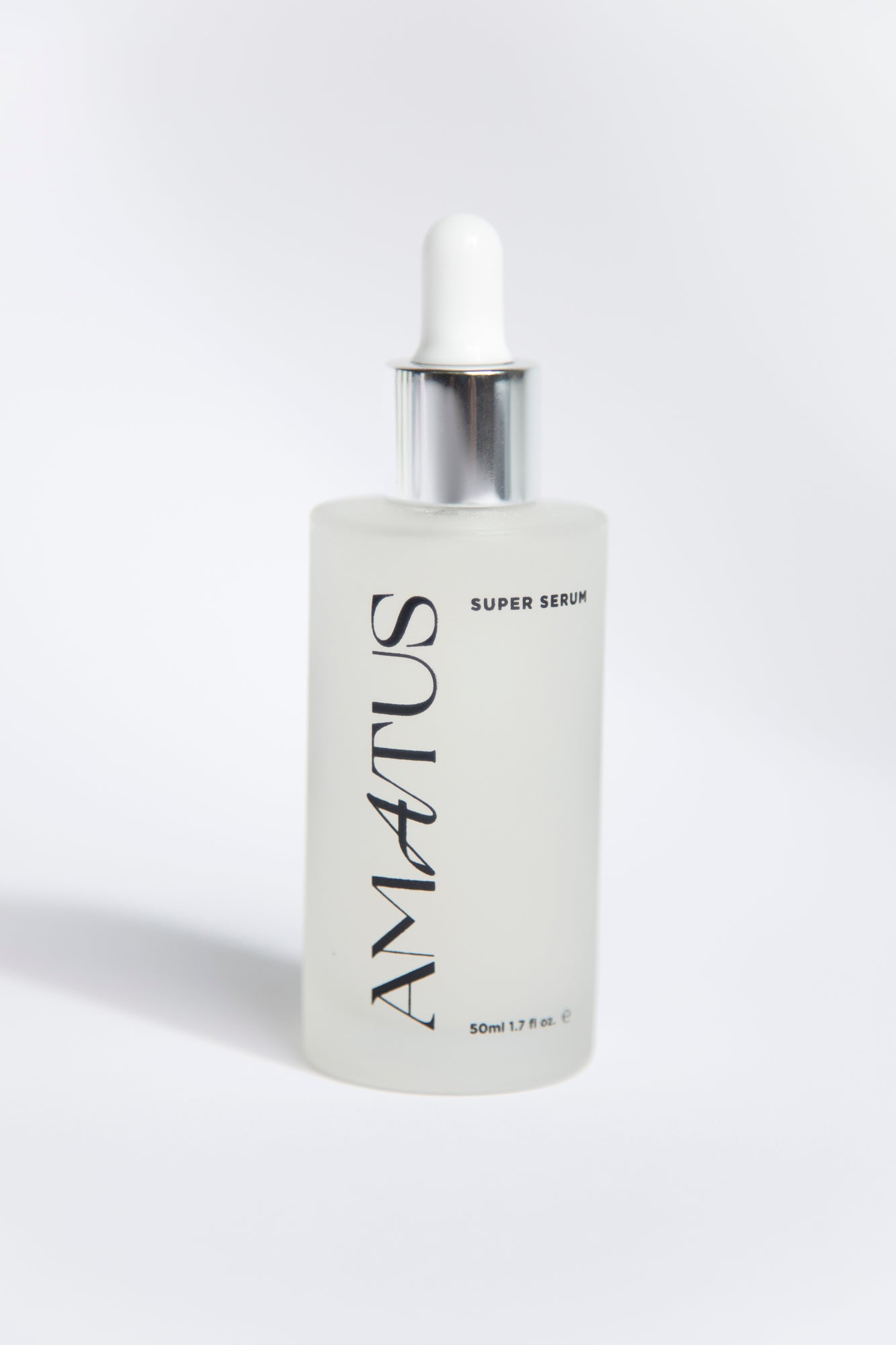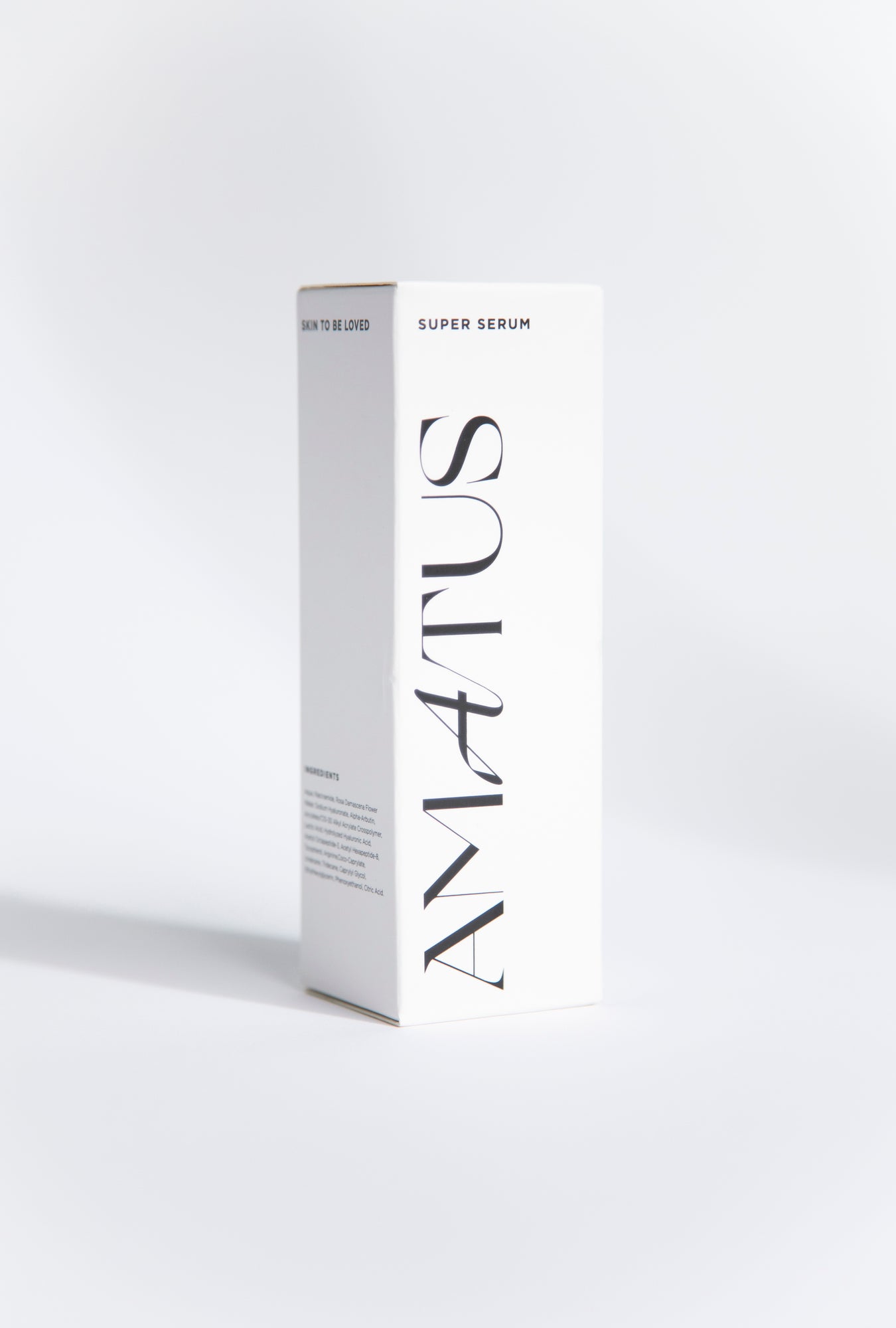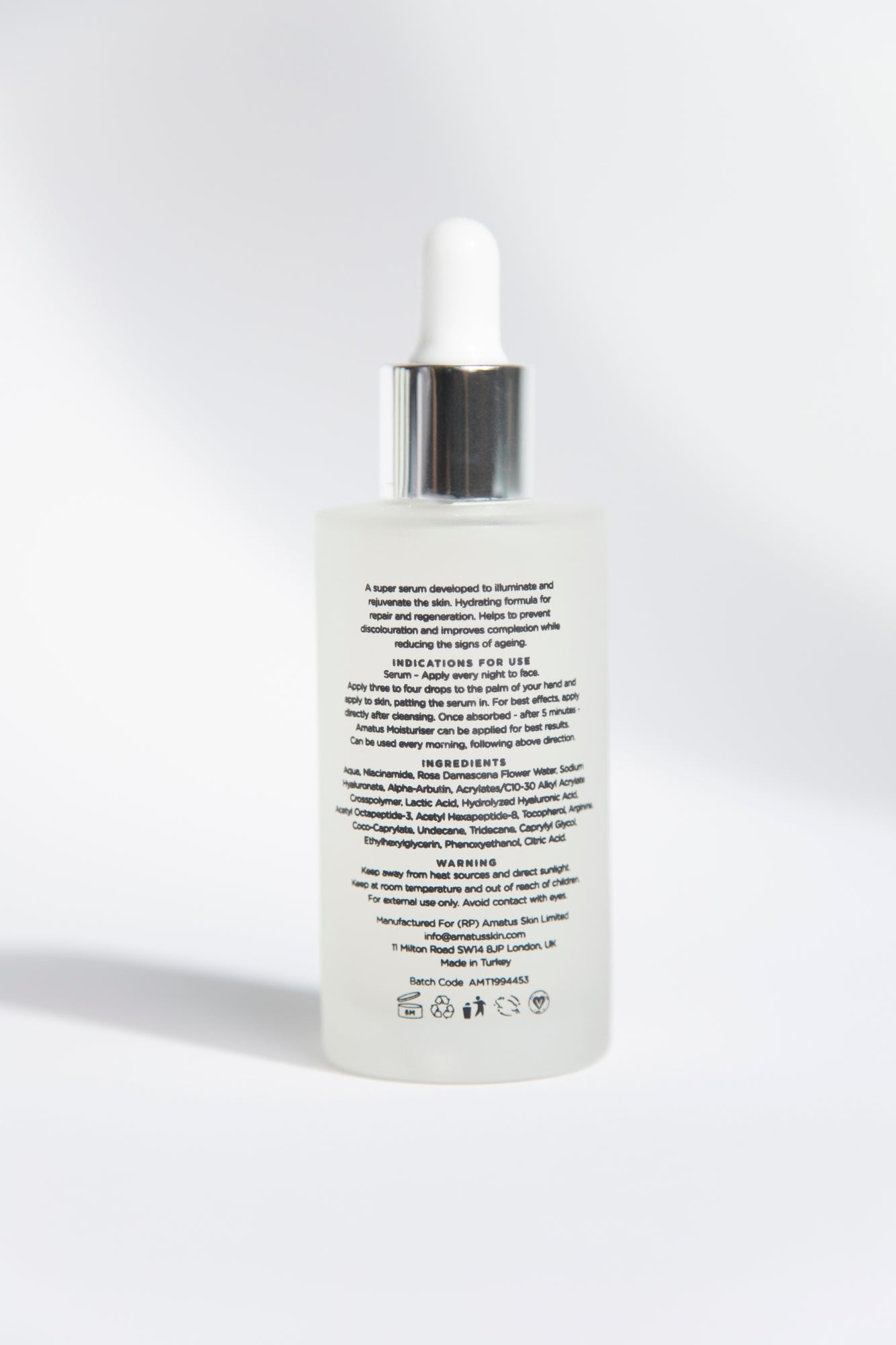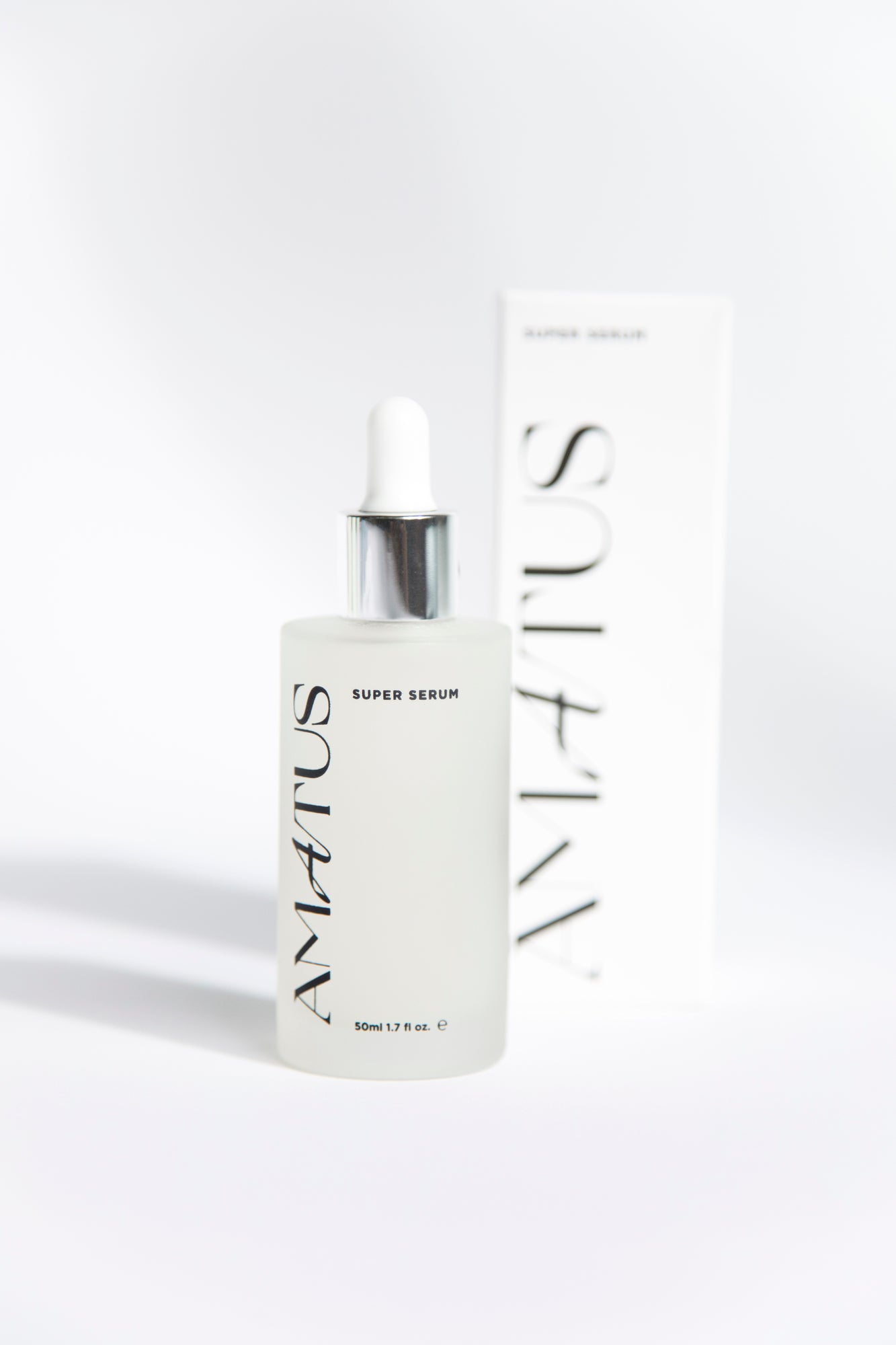 Super Serum
Experience the rejuvenating power of the Amatus brightening and anti-ageing Super Serum. Our formula smoothes, hydrates, restores and plumps the skin.
The serum is repairing and promotes regeneration which helps flight pigmentation and skin damage. It restores the skin balance to improve complexion, reduce redness and signs of ageing through increased collagen production. 

It is packed with rich ingredients, including Peptides, Lactic Acid (AHA), Niacinamide, Hyaluronic Acid, Arbutin and Vitamin E. 
Get the ultimate glow!
Suitable for all skin types.
Key Ingredients

1. HYALURONIC ACID: Increases collagen density in the deep layers of the skin to prevent wrinkles and make the skin look younger. It alleviates the signs of ageing. With its antioxidant side, it creates a protective shield. Its antibacterial properties help heal the skin. It helps fights blemishes and acne.

2. LACTIC ACID: This is an AHA, used to improve skin tone and reduce pore appearance. It is key to treat hyperpigmentation, age spots and dull and uneven complexion through cell turnover and elimination of accumulated dead skin cells. Helps reduce breakouts, fine lines and kills the bacteria.

3. PEPTIDE (Acetyl Octapeptide-3): An anti-aging agent. It reduces the depth of facial wrinkles caused by the contraction of facial expression muscles, especially on the forehead and around the eyes.

4. PEPTIDE (Acetyl Hexapeptide-8): It corrects colour and tone unevenness while instantly brightening the skin. It reduces the appearance of pores. An anti-aging agent that tightens and repairs lines and wrinkles.

5. NIACINAMIDE: A form of vitamin B3, has anti-ageing properties and boosts skin metabolism. An antioxidant which reduces inflammation, helps to ease redness from eczema, acne, and other inflammatory skin conditions. It keeps skin smooth and moisturised which helps minimise pore appearance.

6. VITAMIN E (Tocopherol): Helps to reduce inflammation and helps your skin look younger by reducing the appearance of fine lines and wrinkles. It helps to tighten, lighten dark spots and improves skin tone. It also helps with acne scarring with the skin repair qualities combined with a strengthened skin barrier it helps to prevent further acne scarring on the skin.

7. ARBUTIN (Alpha-Arbutin): Fights hyperpigmentation, brown spots, and skin sun damage. It makes the skin clean and bright. It has the ability to naturally brighten the skin. Visibly reduces signs of premature ageing, acne and further photo-damage.

Additional Key Ingredients:

Rose Water (Rosa Damascena Flower Water), Arginine, Citric Acid. Sodium Hyaluronate,

Full Ingredient List

AQUA, NIACINAMIDE, GLYCERIN, VERBASCUM THAPSUS EXTRACT, SODIUM HYALURONATE, CARBOMER, ALPHA-ARBUTIN, PHENOXYETHANOL, ACETYL HEXAPEPTIDE-8, ACETYL OCTAPEPTIDE-3, LACTIC ACID, HYDROLYZED SODIUM HYALURONATE, CAPRYLYL GLYCOL, ETHYLHEXYLGLYCERIN, POTASSIUM SORBATE, ARGININE, PHENETHYL ALCOHOL, SODIUM CARRAGEENAN, MARIS SAL, CITRIC ACID, SODIUM BENZOATE, POTASSIUM SORBATE


Everyday use – morning and evening

Apply three to four drops to the palm of your hand and apply to skin, patting the serum in. For best effects, apply directly after cleansing. Once absorbed, apply moisturiser.
Glass dropper bottle – 50ml – recyclable, eco-conscious
Comes in individual box with ingredient guide